Pillows for Puppies: NYC. April 2, 2011!
This year Pillows for Puppies was out in force at the New York City pillow fight on April 2. Our fifteen agents collected 1,050 pillows for five local non-profit shelters. Our 17-foot truck was filled to the brim with pillows donated from generous participants in the pillow fight. Keith and I delivered 1050 pillows to five non-profits in the Bronx and Brooklyn which serve marginalized...
THE INTERNATIONAL MEGAPHONE SOCIETY SPRING MEET 'N...
NO INDOOR VOICES: BECAUSE EVERYTHING IS BETTER WHEN IT'S LOUDER. 3pm Saturday March 12th Pier 64, Hudson River Park in Manhattan megaphonery@gmail.com This is a free, public event
Velociraptor Alert in San Francisco
It's not just coyotes that San Francisco residents should be concerned about!
Pillows for Puppies SF: 200 pillows collected and...
Pillows for Puppies had two missions this year at the San Francisco Valentine's Day Pillow Fight: Donating pillows to charity, and cleaning Justin Herman Plaza to make the pillow fight self-sustaining! We collected and donated 200 pillows to the Sisters of Mercy, who distributed them to their low-income housing residents today. Thank you for the kind donations, pillow fighters! We also...
Corporation X: Charity Division Collects 120lbs of...
Corporation X: Charity Division was on the scene at the 2011 Idiotarod to collect donations of food for charitable donation. After the toxic fiscal year, Corporation X needed to balance its portfolio with tax write-offs. Without utilizing these little-known canned food related loopholes, our private jets would have to go to auction. We chose to collect food, instead. To motivate racers, we offered...
Agendaless Random Events: Moderated...
How do we scale large crowd events appropriately, so that more people can enjoy them without the property damage we're seeing more of now? This assumes we want them to be scaled. That's a whole second question. The spirit of deliberate purposelessness which permeates these events works well to encourage attendance. Something about having no agenda allows anyone to come to a pillow fight or a...
NO INDOOR VOICES: BECAUSE EVERYTHING IS BETTER...
THE INTERNATIONAL MEGAPHONE SOCIETY HELD ITS WINTER MEET 'N GREET ON SATURDAY. OUR OUTDOOR VOICES AND AMPLIFICIATION DEVICES ALLOWED US TO HAVE A DELIGHTFUL CONVERSATION AT PIER 64 - HUDSON RIVER PARK. WE WILL MEGACHATTED UNTIL WE GOT MEGACHILLY AND THEN we had food and drinks at normal volume. (J&R and your friendly neighborhood Amazon.com can provide you with a device. 10W is plenty...
Pro Pants: 2K11!
Pro Pants, celebrating its fourth year, is a response to Improv Everywhere's annual No Pants! Subway Ride. Pro Pants exists to inform the pantsless about the pant options available to them, if they feel that something in their lives may be missing. Pro Pants is a non-pantisan organization, accepting all pant belief systems. This is clearly a year for pants: '11 even resembles a pair of...
Social Activism plus Crowds minus Guilt =...
Being all social work-oriented, my goal is bringing small elements of community service and social consciousness-building to the large, hilarious crowd events in NYC. I love and respect the free spirit of randomness that permeates events like Santacon. Adding a quiet option to donate, do good, help clean up after, or not, without guilt or politicizing, seems like it can only bring good press and...
Kitten Wall
(Kitten: suzanneandsimon on flickr) (Skyline: giabar on flickr) Setting: A party at a building in Dumbo. A beautiful view of downtown. The party host asserted that nothing could compete with the stunning view of the Manhattan skyline from the apartment, thus the lack of any décor in the room. I counterasserted that a wall of kittens would get more attention per guest per minute. There's only...
Penguins Sell South Pole Real Estate at Santacon
NYC just hosted its annual SantaCon, with somewhere between 2,000 and a bajillion Santa attendees. Santa is infinitely divisible with no discernable loss of Santitude, allowing us to speak to many Santas, and sometimes elves, trees, gifts, and dreidels! Naturally, South Pole Real Estate's Penguin Salespenguins were there. Santa is our key demographic! We passed out 500 fliers with...
Concept: Treat Clothing Like Whiskey
Putting your current clothing away for 25 years can increase their value! It's an investment. How long does it take for regular clothing to age into vintage clothing? Exhaustive research, which involved clicking on the top link for "average age of vintage clothing", reveals that 25 years is the minimum. To make the wait more pleasant, pack your clothes away in a sleek cedar...
Be a Nice Polar Bear!
Myself and hundreds of other do-gooders will be jumping into the freezing Atlantic at Coney Island on New Year's Day to raise funds for Camp Sunshine, which is a summer camp-style haven for chronically ill children and their families, set in the Maine countryside. I am very excited to help raise funds to enable families the space to concentrate on their child's health in a beautiful,...
ShareTruck: Talk and Listen to Strangers, in a...
(Photo credit: vipgala) Mid-November found my fantastic group putting together a truck for the Night Market. The premise was simple: One participant was the talker, the other the listener, both strangers, with 2 minutes in a timer. Sit them in a booth, and have the talker talk, and the listener listen. See what happens. People enjoyed the concept. I frequently opened the curtain after two...
INTERNATIONAL MEGAPHONE SOCIETY: SEASONAL MEET 'N...
PLEASE BRING YOUR OUTDOOR VOICE AND AMPLIFICATION DEVICE TO THE ARCH UNDER THE MANHATTAN BRIDGE AT 2PM SATURDAY NOV 6. WE WILL MEGACHAT UNTIL WE GET MEGACHILLY AND THEN seek food and drinks at normal volume. NO INDOOR VOICES: BECAUSE EVERYTHING IS BETTER WHEN IT'S LOUDER. (J&R and your friendly neighborhood Amazon.com can provide you with megaphonery. 10W is plenty for recreational...
The Fun Police of the Forbidden City
The Fun Police kept order in Winkel and Balktick's Forbidden City, ensuring the safety and funitude of attendees. Our fine officers issued tickets to partygoers. Eventually I'll put the final version up here. We added "Excellent/Poor use of face", which was a frequent citation. Officer Shane Perez took photos of troublemakers to keep track of them. Criminals were...
7 tags
Saber-toothed tigers released in Prospect Park
My accomplices and I, the Non-Traditional Park Preservation Taskforce, posted signs in Prospect Park, trying to ask people to stay out of the newly restored areas. Gothamist blogged us before we got around to blogging ourselves! We love Prospect Park and the Ravine, newly restored after years of abuse. The topsoil can't compete with folks hopping the fence and tromping on the plant...
10x Better!
7 tags
The Bureau of High Five Distribution
The Bureau of High Five Distribution visited Figment on Governor's Island this year! We created high five collection sheets, which have a space for a high five and an explanation of why the recipient was receiving this high five in the mail. Then we asked Figment attendees to send a high five to whoever they thought was deserving. We got a huge variety of recipients! 150...
Pillows for Puppies Collection
At this year's Newmindspace Pillow Fight in Union Square, it was time to do something with the leftover pillows, and to leave the park clean instead of a huge mess.  I coordinated with the organizer of Newmindspace, who loved the idea of collecting pillows for donation to animal shelters. The organizer asked participants to bring fiber-filled pillows instead of feather pillows, so they could...
I welded a twin! You should, too.
The Madagascar Institute is offering classes again. Don't miss out!
The Best Party Idea Ever
I had this inspiration That I should have a party, and everyone should bring their exes. And it'll be colorcoded. All of my exes would wear blue; My best friend's exes would wear red; Yours would wear yellow; etc etc etc. And then we'd party! It would be so awkward.
1 tag
ProPants 3: 2K10 went well!
Jason's an Internet God, so he has a great report of this year's mission already up! "Pro Pants representatives issued more than 200 questionnaires, distributed 1500 pamphlets, and gave away more than 20 pairs of pants!" We were a MASSIVE hit! Check it out: http://jasoneppink.com/propants/2010/
Punny Portapotties always make my day
Santacon 2009: Roundly Successful
For this year's Santacon, I wanted to go futher than just a Santa costume. I'm opposed to the theme of women always dressing as "Slutty _____" as a default, because that's such a limiting theme. I decided to become an ornament. This is my first foray into bulky costuming and large paper-mache, and I think I'm hooked. It's pretty easy to create big paper...
Dislikes: Bathrooms where the lighting makes...
Babeland has Pumpkin Carving Contest: I get 2nd...
So, Babeland ran a contest this Halloween asking for sexy pumpkins. My pumpkin won second place, and I got a $50 gift certificate. Behold my Sperm-O-Lantern! What could be sexier than that?
In Toronto, walls grow plants
Charlie posted this the week after I discovered these on a trip: http://urbanprankster.com/2009/10/turning-flyer-boxes-into-planters/ He cleverly sleuthed out the website for these planters: http://posterpocketplants.blogspot.com/
JenWinstheBet vs. JasonWinstheBet
Jason and I had a contest to see who would be tagged more on flickr at Newmindspace's photo event. This is a hobby of ours, due to the massive photography showing at most events. As you can see, "JenWinsTheBet" has 13 tags on flickr: http://www.flickr.com/search/?q=jenwinsthebet&w=all "JasonWinsTheBet" has just 3:...
Postcards for Friends!
I had a bunch of poke postcards left over from a project, and a bunch of friends from college who all know each other. I combined the two by sending each friend an envelope filled with stamped postcards already addressed to their other friends, along with a loving note! It's a poke that's been touched by your friend, which makes it all the more awesome. Soon there will be 40+ happy...
Innertube Water Polo is Awesome
All-Downhill Century Ride
Eventually, I'm planning to do a Century Ride. That's a 100-mile bike ride, all in one day. And I got to thinking: How awesome would an entirely downhill Century Ride be? A quick googling suggests there isn't such a thing…. yet. I need a hundred miles of downhill, without all that rigamarole of pedaling up the hill first.
Petco is so honest about commodifying kids
These are the little-bitty carts that kids use while parents shop. They're labeled "Customer in Training". Does that seem odd to you?
A Second Subway Art Gallery!
When Charlie of IE suggested doing the High Five mission again at the Roosevelt Island subway station as a lead-up to the Mp3 Experiment, I thought it would be fun to do another Subway Art Gallery! IE followers would get a kick out of seeing a gallery in person after reading about it, and the placards will be up for regular commuters to enjoy for days afterward! On the way to the Mp3 Experiment...
Challah bread for Easter!
This turned out so well. I've never made bread before - I may have to make it frequently from now on! The dough! It raises for an hour and a half before you braid it into loaves. Then it raises for another hour, you brush it with egg and honey, and pop it in the oven for 40 minutes. And then, you EAT IT! Yumyum.
We made bacon soap!
Over the weekend I decided it was time to make bacon soap. Note that the supplies include gloves, goggles, and face masks. Lye, and the toxic fumes it creates when mixed with water, is bad for you! Now it sits for 2 days to settle into becoming soap, then we'll cut it into blocks while it's still soft. The lye is still caustic at this stage, because it takes time for all of the lye...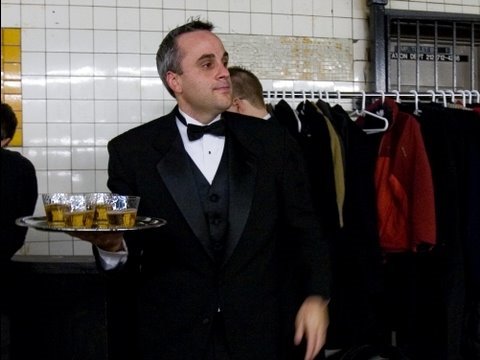 I love ImprovEverywhere.
Late last year I had a pow-wow with Jason, and we decided to pitch making a subway platform into an art gallery to the wonderful ImprovEverywhere people. Charlie Todd thought it sounded fun, and we all put it together. I wrote the art descriptions (except for Jason's "Convergence") and had a blast. Here's one of my favorites: "Telephone Line (2002) Metropolitan...
3 tags
Why do portapotties tend toward puns?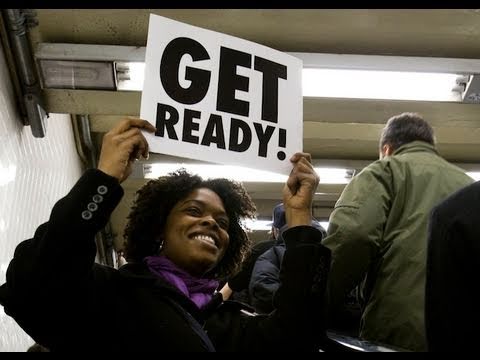 Macaroni and Cheese Cupcakes
There was a 'Smacdown competition in Williamsburg, and I figured I would combine a few of my favorite things: Cupcakes, Guinness, and Mac 'n Cheese. It sort of worked. The cupcakes are adapted from this recipe: http://www.bigcitylittlekitchen.com/2007/07/06/beer-cupcakes/ with loads of additional cheese and some pasta noodles. The frosting is a cream-cheese base with a huge amount...
3 tags
ProPants 2k9: Free Pants Test
This year we decided to do ProPants a bit differently. We set up a couple of ProPants tables in the style of the Free Stress Tests offered by Scientologists. We made Questionnaires to help people tell if they needed pants, made pamphlets about the wonders of pants, and had free pants for people to try on. It was freezing cold, but loads of people played along with us. They improved their hearts...
I made penguin cupcakes!
They're part cupcake, part donut hole, part marshmallow, part cookie, and all delicious! (Recipe from this awesome book: http://www.amazon.com/Hello-Cupcake-Irresistibly-Playful-Creations/dp/0618829253 )
Mailing Experiment #2: Great Expectations
Seeing what the US Postal Service is willing to process is a fun game. I did use packing tape over the edge to hold the book shut. Let's see if this makes it from Denver to Astoria!
Mailing Experiment #1: Silver Platter
This dollar store purchase was left over after a recent prank. Jason lives an hour awayby subway, so I figured I would mail this back to him. But I didn't have a box. So, I just stamped it and dropped it in a mailbox. Will it make it? ***11/25/08: Update: IT MADE IT! http://flickr.com/photos/jasoneppink/3055770541/in/photostream/ After 10 days? Very mysterious.
And to think I almost stayed home!
In a totally out of character move, I wasn't going to do anything for the Halloween Parade this year! I made a set of Halloween Parade bingo cards, but wasn't feeling too hot when it came parade time. By the time I got home, I was reenergizing and threw together a costume made entirely of striped clothes I had in my closet. Jason and a few friends met up with me, and we went in search...